Every year, I write at least one post and do a podcast about my goals for the upcoming year. I also talk about my previews goals and how things went in the previous year. This episode of the InvestFourMore Podcast is all about goals, with details on my business. I had a lot of goals for my real estate team, house flipping, rentals, my blog, and my personal life in 2017. I accomplished some of those goals, did not accomplish others, and had some surprises as well. In 2018, I want to build on 2017, change a few goals, change how I look at some of my goals, and add some big changes to my business and life.
Why are goals important?
Many people set New Years resolutions, but few actually stick to them. I do not set New Years resolutions because I fee they are too short sided and easy to forget. When you set goals, you are setting yourself up for success by creating expectations for yourself that can be measured. You should know—at the end of the year or after whatever time frame you put on your goals—if you accomplished them or not. A good goal is specific in exactly what you plan to do and when you plan to do it, and it should be challenging as well. I want goals that are hard to accomplish, and I have no problem not reaching my goals. The goal is meant to help you accomplish more than you would without a goal. I do not reach many of my goals, but they still help me become more successful.
What were some of my big goals for 2017?
I had quite a few goals in 2017, but I will focus on the big ones in this write up. If you want to hear about all of them, listen to the podcast, or you can read the transcript below. I wanted to flip 30 houses in 2017, and I came really close. I ended up selling 26 flips and buying 27 more. I thought I was going to come close to my goal midway through the year, but there are always things that slow down the process. The year before, I flipped 18 houses, so I definitely improved on that goal.
I also had a goal to buy a 50,000-square-foot or larger commercial property. I did not accomplish that goal, but I am getting close! I have a property under contract and set to close this month. We are still working on some of the inspection issues, but I think this deal will go through. I will be posting much more information on this deal if it all goes through as planned.
What surprises did I have in 2017?
I did not set any rental property goals in 2017 except for buying a big building. I did not set any other goals because the market in my area quit working for residential rental properties. I did not buy any rentals in 2016. However, I ended up buying 4 rentals in 2017 that were commercial properties. I was not planning to buy smaller commercial properties, but the cash flow has been much better on them than on the residential.
I also bought a Lotus Esprit in 2017, which I was not planning to do. The car was a great deal and something I have always wanted. I love the car and was super happy with that purchase.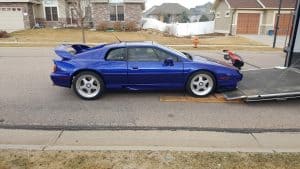 What are my goals and plans for 2018
I have changed most of my goals for my team, my flips, my rentals, and my personal life. Here are a few of the goals I have for the next year:
Make $100,000 per month flipping houses, which would take about 36 flips.
Create $6,000 per month in passive income from rental properties.
Start my own real estate office, which involves buying the 50,000-square-foot building.
Buy an Aston Martin V8 or Lamborghini Countach.
Some of these goals will be super challenging, and I am already working on others that should happen sooner rather than later. As always, I will make sure to keep everyone updated on what is going on in my business and life. Make sure you listen to the podcast for more details on all of this.